I am pretty giggly with excitment and counting the days until May 5. On this day I will be having brunch with Betsy Johnson. When I first went to college, I attended Bauder Fashion School in Atlanta for a year (before heading to NYC). During my year, Betsy Johnson opened a store in one of the malls and made an appearance. I of course went to the store and introduced myself telling her I would one day work for her. I still have a dream to work for Betsy, but getting a job in her NY office is not an easy task, believe me I tried.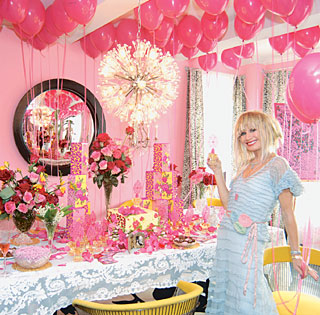 Yes, THE Betsy Johnson; exuberant, over the top, fabulous NY designer. She is coming to Louisville for a fundraiser for Gilda's Club and will be hosting a brunch. So unfortunately it just won't be me & Betsy, there will be others, but she will still be there. If you are interested in attending you can purchase tickets
here.
For those of you that follow the amazing Gertie over at
Gertie's New Blog for Better Sewing
, then I am sure you, like me, have been very envious of her recent adventure to Camp Couture. If you haven't heard about Camp Couture, then you will soon be drooling and dying to attend, I promise!
It's really not called Camp Couture, but rather
The Couture Sewing School
and it's run by Susan Khalje.
"At the Couture Sewing School, 6 intensive days are devoting to creating your garment. You'll be incorporating into your project the couture techniques that go into Susan Khalje's exquisite garments."
So who is Susan Khalje? A contributing editor to
Threads Magazine
, host of "Sew Much More" which ran on HGTV, and designer of couture wedding gowns. Susan received her training at the elite New York couture salon, Chez Cez et Bez. One of Susan's book,
Bridal Couture,
was apparently out of print for several years and last year the copyright was reverted back to Susan and her book has been selling like crazy. I just might have to pick up a copy.
The couture sewing school has sessions across the country with this week being in Baltimore. I am seriously thinking about attending a session, just have to figure out where to fit it in. I also need to refine making a muslin before sewing a garment. I have this horrible habit of just cutting out onto my real fabric then royally screwing up the fabric because my dart didn't look right or it was too tight (which is why I haven't posted any pictures of recent garments because I've screwed up the last two). You would think by now I would learn!